Monthly Archives:
February 2015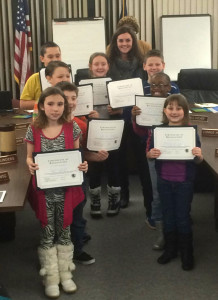 Dillon Parent Club meeting to be held at 4:00 p.m. on February 24th (today)
Dillon Spring Picture Day – March 10th
Congratulations!
Dillon Elementary's Positive Peers were recognized at the Board of Education meeting on February 3, 2015. We are so proud of them!   (photo attached)
Are you ready for a Trip Around the World? Join the Title I staff before or after your parent-teacher conference to explore the Earth!
FREE games, prizes, and snacks!
FREE activities for science and social studies!
FREE fun for the whole family!
We will be open during conference times Wednesday, March 4 and Thursday, March 5